Carpet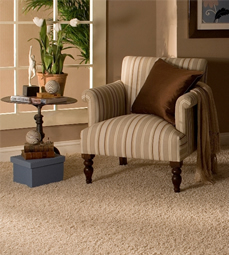 #1 Source for Carpet Flooring in Little Rock, AR
Add Comfort and Warmth to any Room
Advantages of CARPET
You cannot go wrong with carpet. It's soft, safe, warm and quiet. It's stain-resistant and gives excellent value for the price.—and it saves energy.
Maintenance
It's not hard to take care of carpet—there are just a few easy steps to be aware of. Regularly following these steps will ensure that your carpet continues to look as lovely in years to come as it does when you have it installed.

Installation
We help you every step of the way after you've selected your new floor: professional on-site measurement, removal of old flooring, and skilled installation that includes moving your furniture and replacing trim. We do it all expertly, so your floor will look amazing and give lasting satisfaction.

Why Carpeting?
•Carpet adds warmth and is soft under feet and easier on children's knees.
•Carpet is much quieter than hard surfaces floors.
•Carpet comes in a wide variety of colors, tones and hues.
•Carpet is easy to decorate with and offers many styles and colors allowing it to be the focus of the room or the perfect foundation for your furniture and accessories.
•Carpet can hide many sub-floor irregularities that would not be permitted with hard surfaces floors.
•Carpet can go over a variety of substrates and on all grade levels, even concrete slabs in basements.
•Carpet is economical and the installation costs are generally less than some of the hard surface products.